Passiflora 'Gloria Moreno' TM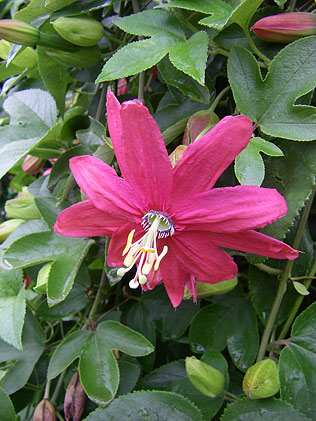 Common Name:
Passion flower
Plant Type:
Evergreen vine
Family:
Passifloraceae (The Passion Vine Family)
Geographic Origin:
Hybrid origin
California Native?:
No
Plant Size:
10-30 feet
Landscape/Garden Uses:
walls and fences
Flowering Season:
Summer and fall
Flower Color:
Bright pink
Exposure:
Sun or light shade
Soils:
Well-drained soil
Suggested Irrigation:
Moderate watering
Estimated Hardiness:
Hardy to 25-30 degrees F.
Another hybrid by Patrick Worley, this has the typical three-lobed leaves of Passiflora mixta but with longer lobes. The flowers also have the long tubes of that species but are distinguished by deeper pink color and the habit of opening more widely. Sun, rich, reasonably well drained soil, moderate watering.