Passiflora 'Donna Brigham' TM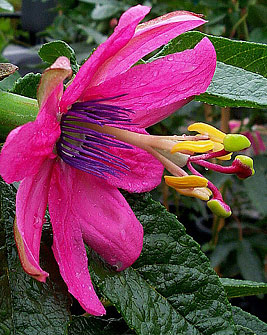 Common Name:
Passion flower
Plant Type:
Evergreen vine
Family:
Passifloraceae (The Passion Vine Family)
Geographic Origin:
Hybrid origin
California Native?:
No
Plant Size:
To 20-30 feet
Landscape/Garden Uses:
walls and fences
Flowering Season:
Summer and fall
Flower Color:
Rose pink
Exposure:
Sun or light shade
Soils:
Well-drained soil
Suggested Irrigation:
Moderate watering
Estimated Hardiness:
Hardy to 25-30 degrees F.
This Patrick Worley hybrid is the first of its kind to exhibit the inch long filaments inherited from its P. pinnatistipula father. The tri-lobed, medium green leaves have an interesting bubbled texture with a deep green color and great substance. The masses of dark bright pink flowers bloom over a very long period in summer and fall. The plant is very vigorous. Sun, rich, reasonably well drained soil, moderate watering.