Passiflora 'Blue Horizon' TM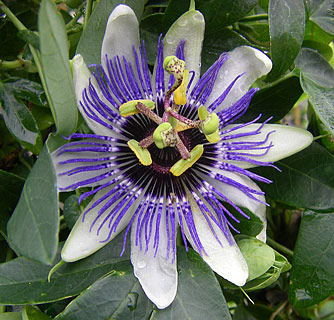 Common Name:
Passion flower
Plant Type:
Evergreen vine
Family:
Passifloraceae (The Passion Vine Family)
Geographic Origin:
South America
California Native?:
No
Plant Size:
10-30 feet
Landscape/Garden Uses:
walls and fences
Flowering Season:
Spring to fall
Flower Color:
White
Exposure:
Sun or light shade
Soils:
Most soils
Suggested Irrigation:
Moderate watering
Estimated Hardiness:
Hardy to 15-20 degrees F.
This passion flower features masses of flowers with deep blue filaments in two rows over pure white petals. The deep green foliage has five lobes and is sturdy. This outstanding Patrick Worley hybrid is vigorous and blooms over a very long season. This plant is excellent for a sunny location and makes a good, rapidly growing screen for an unsightly fence or outbuilding. Sun, rich, reasonably well drained soil, moderate watering. Hardy to 15-20 degrees F.