Iris macrosiphon 'Mt. Madonna'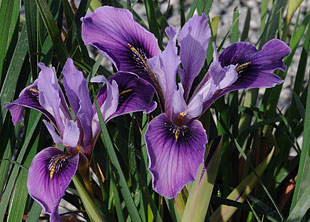 Common Name:
Ground iris
Plant Type:
Evergreen perennial
Family:
Iridaceae (The Iris Family)
Geographic Origin:
California
California Native?:
Yes
Plant Size:
6-10 inches
Landscape/Garden Uses:
Mixed plantings
Flowering Season:
Spring
Flower Color:
Violet
Exposure:
Sun or light shade
Soils:
Well-drained soil
Suggested Irrigation:
Moderate to little watering
Estimated Hardiness:
Hardy to 10 degrees F. or less
Iris macrosiphon is a rugged California native species of deceptively delicate appearance. It forms neat, fountainlike clumps with narrow, arching bluish green leaves. Graceful narrow-petalled blossoms have violet falls and lighter standards. Sun or part shade, reasonably well drained soil, moderate to little watering when established. Hardy to 10 degrees F or less.