Search Our Plant Database
Callistemon 'Cane's Hybrid'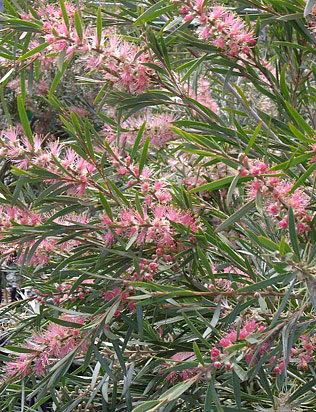 Common Name:
Bottlebrush
Plant Type:
Evergreen shrub
Family:
Myrtaceae (The Myrtle Family)
Geographic Origin:
Australia
California Native?:
No
Plant Size:
10 feet high by 5-8 feet wide
Landscape/Garden Uses:
Foundation plantings
Flowering Season:
Spring and summer
Flower Color:
Light pink
Exposure:
Sun or light shade
Soils:
Most soils
Suggested Irrigation:
Moderate to little watering
Estimated Hardiness:
Hardy to 15-20 degrees F.
This UCSC/Koala Blooms introduction is a welcome relief from the widely used, sometimes overly bold C. citrinus. It grows naturally as a shrub, up to 10 feet high and 8 feet wide, but is easily trained as a small tree. It has slender, slightly drooping stems lined by narrow leaves, each 2-3 inches long. The leaves are grey-green when mature, bronze- to rose-tinted in new growth. In late spring and early summer the plant is decorated by soft pink "brushes" of flowers near the stem ends. 'Cane's Hybrid' is amenable to the same uses and abuses as other callistemons but in addition, makes an elegant, somewhat parasol-shaped small tree. It is adaptable to many soils with moderate watering, and drought tolerant when established. Hardy to at least 20 degrees F or less.