Search Our Plant Database
Callirhoe involucrata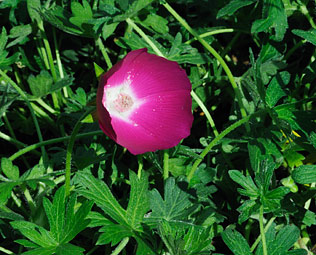 Common Name:
Winecup
Plant Type:
Deciduous perennial
Family:
Malvaceae (The Mallow Family)
Geographic Origin:
Southwestern States
California Native?:
No
Plant Size:
6 inches high
Landscape/Garden Uses:
Mixed plantings
Flowering Season:
Summer and fall
Flower Color:
Purplish rose
Exposure:
Sun or light shade
Soils:
Well-drained soil
Suggested Irrigation:
Moderate to occasional watering
Estimated Hardiness:
Hardy to 0 degrees F. or less
Low rosettes have lobed bright green leaves; flowering stems are prostrate and extend from the central crown. These carry a succession of vivid 2 inch rose purple mallow flowers in summer and fall. This perennial is found in nature from the Southwest through the Midwest and Great Plains regions of the United States.